On Dec 16th 2019, as the first partner of Microsoft selling and implementing successfully SAP on Azure solution in Vietnam, NGS I.T participated in announcing event for global cooperation project EMBRACE DIGITAL VIETNAM in the digitization journey of Vietnamese enterprises at Mercure Hanoi La Gare hotel.
SAP and Microsoft committed to help enterprises in advancing faster in their own "cloudify" path with the unified reference architecture as well as a transformation roadmap and specification in accordance with market's standard.
Hence, Microsoft will officially sell Sap Cloud Platform's components with Azure, support clients using SAP ERP and SAP S/4HANA migrated from On-Premise to public cloud.
According to Ms. Josephin Galla, SAP Vietnam director, this cooperation aims at simplifying and cutting down the cost for clients once they migrate SAP S/4HANA to cloud.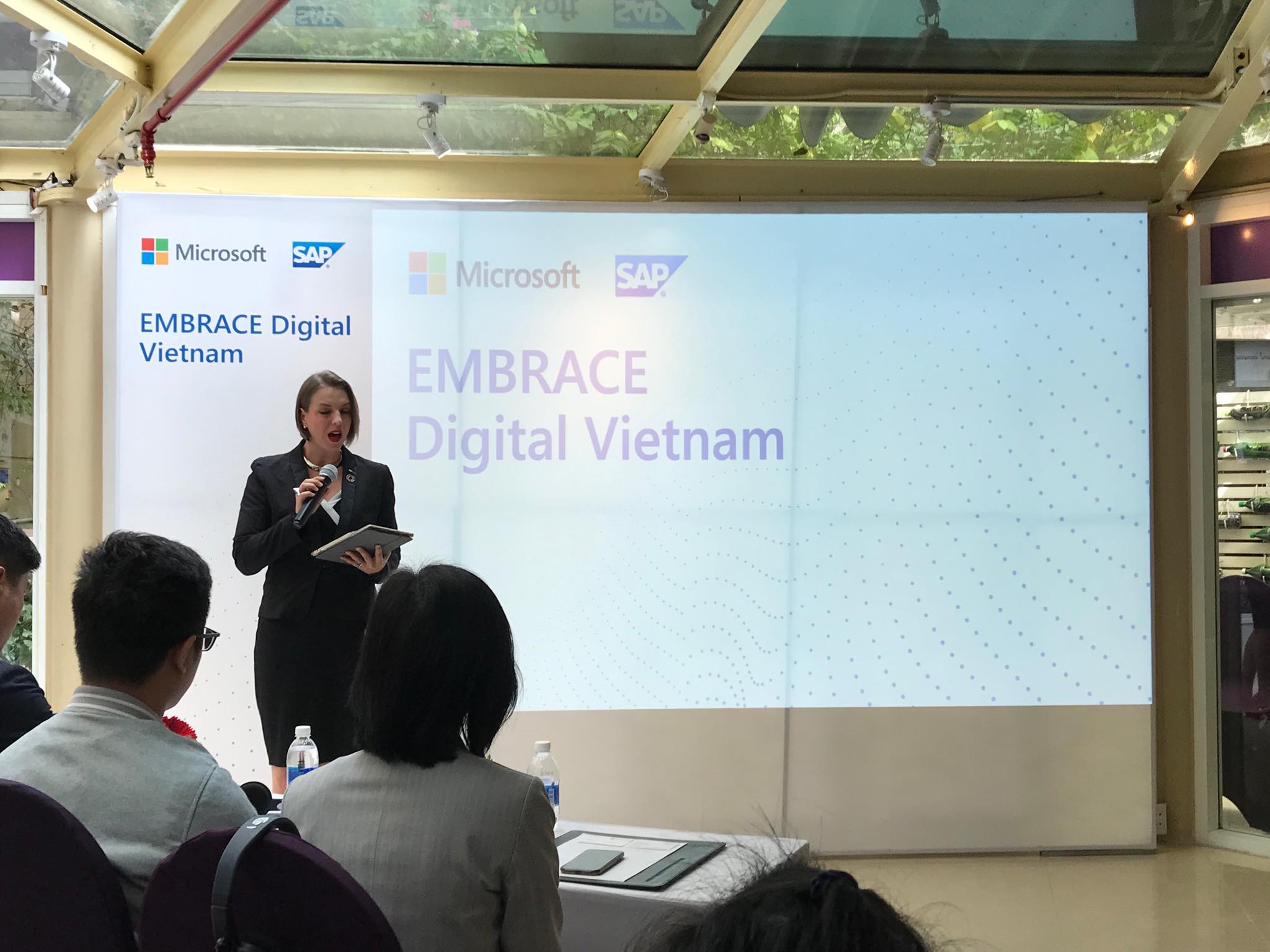 "Cooperation project Embrace is bring to clients the guarantee from SAP and Microsoft, offer to enterprises the opportunities in digital transformation easily and conveniently.", Ms. Josephin Galla said.
According to Mr. Pham The Truong, Microsoft Vietnam director, this cooperation with SAP is Microsoft's action in supporting enterprises in digital transformation with cloud computing more easily.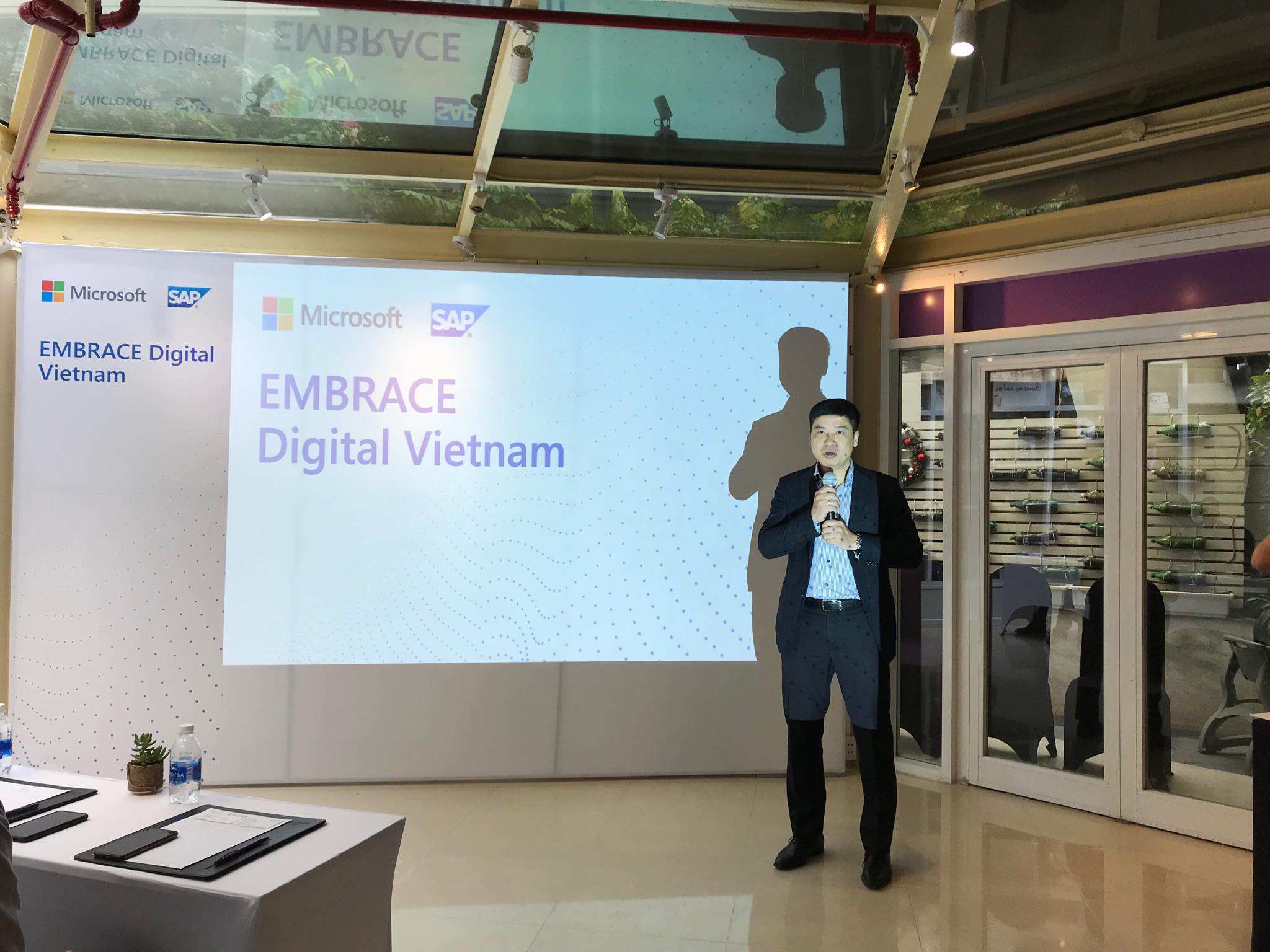 SAP will concessionally migrate for client of traditional SAP ERP and SAP S/4HANA on-premise to Microsoft Azure, including implementation and migration in future for enterprises using SAP HANA Enterprise Cloud
Particularly, project Embrace will bring in simple migration journey from traditional SAP ERP on-premise to SAP S/4HANA. Solutions which are already packaged will facilitate a establishment a migrating roadmap to clound computing for clients in key industries, with an unique reference architecture and simple implementing path.
Besides, the united support from both parties shall make client to be supported and consulted from 2 taskforce Azure and SAP Cloud Platform during the migration.
Besides, the cooperation with SAP, Microsoft and other partner shall provide a roadmap including solutions and architectures which are adaptive to enterprises.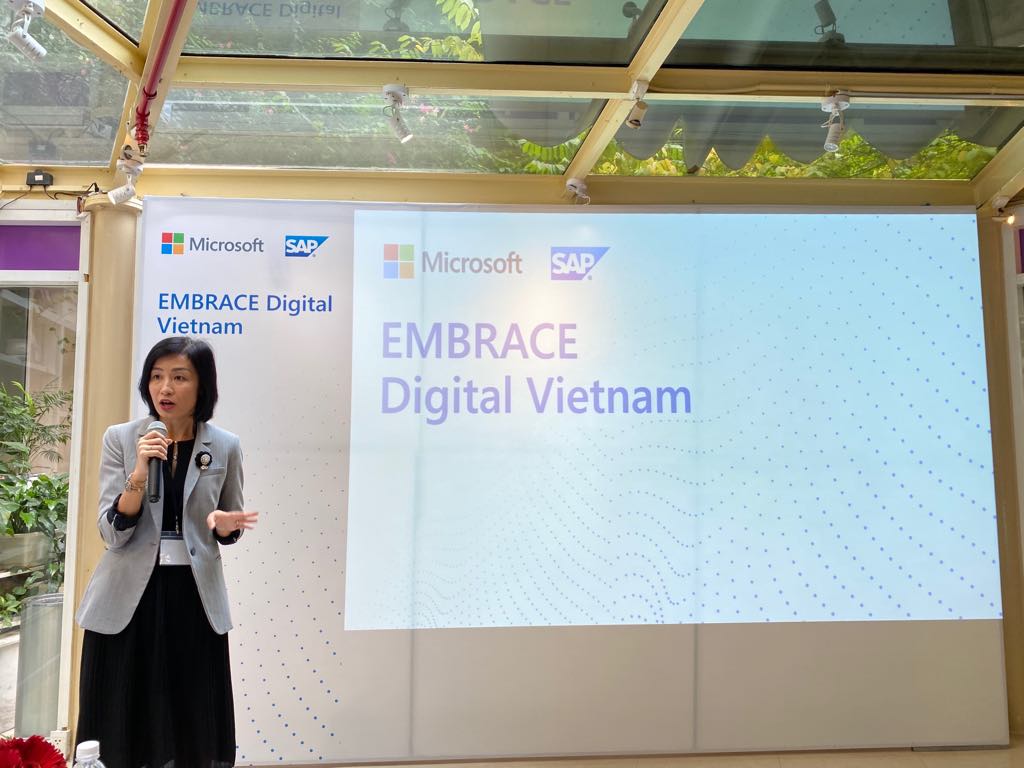 Ms. Dao Thanh Huong, Tecomen strategic innovation director – One of the first enterprises in Vietnam having implemented SAP on Azure – shared at the conference
About the influence of project Embrace in enterprise digitalization journey, Ms. Dao Thanh Huong, Tecomen strategic innovation director stated: "Tecomen is one of enterprises having started to apply digital transformation by migrating SAP to Microsoft Azure at the beginning of 2018. She also shared that: "Tecomen simplify the process, accelerate and expand quickly basing on operating needs. With SAP Azure, Tecomen approximately cut down USD 1 million expenses and improve the operation performance significantly, some jobs used to cost one week, currently can be done within few minutes".
At the event, NGS I.T had the opportunity to meet the partners, discuss about services, experiences in consulting and implementing SAP and Microsoft solutions. Besides, NGT I.T's representative had gain fascinating knowledge with the objectives bring in more practical and useful values to clients.